Zombie FOI request costs Lincolnshire County Council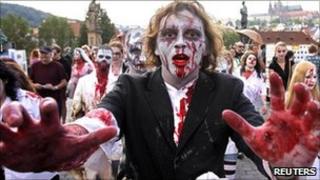 Questions about a zombie pandemic and the cost of biscuits are among the requests costing Lincolnshire County Council up to £500,000 a year.
The authority said Freedom of Information (FOI) request numbers have risen from 450 to 1,000 in three years.
It added responding to some was "not a good use of public funds".
An organisation supporting the legislation said people needed to know about important information that is not in the public domain.
'Poor use of funds'
Other requests to the county council included wanting to know whether any of its buildings were haunted and had it ever called in ghost busters, and who was on its Christmas card list.
David O'Connor, Lincolnshire County Council director responsible for monitoring and delegating FOI requests, said it was difficult to take some seriously.
"We had one that asked for the cost of biscuits, broken down by the type of biscuit and the cost for each of those types, which is no good to man or beast really," he said.
"We're bound by law to answer the request, but in that one our answer was that we don't recall information in that much detail to respond to you.
"Some of the requests like what are our preparations for a zombie pandemic and cost of biscuits are simple ones, but we do get some very, very complex ones that quite often an FOI request can have 20 or 30 sub questions.
"Members' expenses are published on the council's website, but they actually requested a copy of every single claim form for the last four years, for 77 councillors.
'More aware'
"It was over 1,000 pages of information and spending all that time is not a good use of public funds."
Mr O'Connor said that the number has increased over the years because "people have become more aware of FOI's and how they can use it".
Maurace Frankel, from the Campaign for Freedom of Information, said: "At a time of big changes in provision of public services the public really need to know what's going on.
"They need to know how much value for money the new arrangements are actually bringing and what savings they're bringing.
"Very often the information that is being withheld is at a time the public most need to have it."
District and city councils are spending up to £50,000 a year on responding to FOI's, an act allowing the public the right to information held by authorities.
South Kesteven District Council has seen its FOI requests go up from 40 in 2006 to 470 last year.
In East Lindsey, the number almost doubled between 2009 and 2011 from about 360 to about 690 requests.