Jolly Fisherman Skegness statue design criticised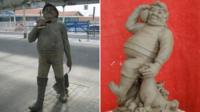 A design for a new statue of a Lincolnshire town's mascot has been criticised for being "like a gargoyle".
The Jolly Fisherman first appeared on a 1908 railway poster advertising the coastal resort of Skegness.
The existing statue at Skegness Railway Station is damaged, but Lincolnshire County Council said repairing it would cost as much as replacing it.
At a meeting, many town councillors objected to the design and a group has been set up to consider other options.
It comes just weeks after a row over a poster campaign for Skegness which featured unflattering images of rival resorts.
Recent accident
The town's more famous Jolly Fisherman statue, which shows him with his arms outstretched on top of a water feature, will remain in Tower Gardens.
The proposed new design for the railway station has the fisherman patting a seal and holding a beach ball.
Skegness Mayor Mark Anderson said: "It looked like a Buddha, it was like a gargoyle basically. It was completely against what our image of our town is.
"People and businesses were upset by the publicity surrounding the poster campaign so we certainly do not need this now."
Chris Briggs, from Lincolnshire County Council, said: "There has been a recent accident at the station involving some of the new materials and we are aware there is a court case pending on that.
"So what we didn't want to do was produce another design which would entice children or whoever to swing on the arms of the statue, which could also damage it, and may lead to some claims."
The statue is due to be placed in a new plaza outside the railway station.