Stolen digger used in Lincolnshire bank raid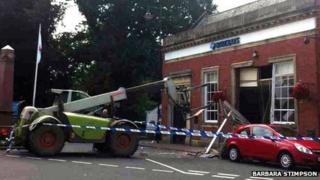 A stolen JCB has been used to rip a cash machine from a bank in a Lincolnshire town.
It is believed at least four men carried out the robbery at about 02:15 BST in the Market Place in Long Sutton.
Police said the machinery, abandoned outside Barclays Bank, was used to remove the device from the wall and load it onto a 4x4 car.
Dick Holmes, of Lincolnshire Police, said the JCB could have been stolen from the Sutton St James area.
"They've used that to rip the cash machine out of the wall, load it onto the back of a pick up truck and driven it away," he said.
"We got a call at the police headquarters to say that this was an ongoing offence."
Police said the offenders, who were all wearing balaclavas or hoods, may have abandoned the cash machine on isolated land or property in the Long Sutton area.
They are appealing for people to check and report anything suspicious.
The bank was damaged in the raid and the area has been cordoned off while investigations are under way.