New homes in Lincolnshire: Views sought on building plan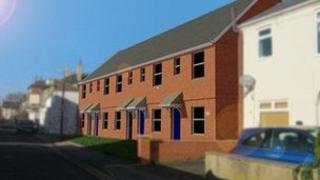 Views are being sought on plans to build thousands of new homes across Lincolnshire over the next 20 years.
Central Lincolnshire's Joint Planning Unit, which covers North Kesteven, West Lindsey and Lincoln, has set out its draft local plan.
It states that 42,000 homes and 140 hectares (350 acres) of new employment land are needed to meet demand.
The consultation runs until 10 September, with a number of public events being held in August.
Committee chairman Burt Keimach said the draft plan would have far reaching effects on the way people lived for a generation.
The plan includes proposals for 10,000 new homes in Gainsborough, with a further 9,500 homes to be spread across rural communities in West Lindsey and North Kesteven.
Lincoln is expected to need more than 18,000 homes over the next 20 years.
As part of the consultation, views are also being sought on the future development of roads, rail, open-spaces and flood defences.