Smooth-hound shark numbers rise off Lincolnshire coast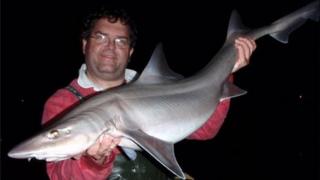 Anglers say more and bigger sharks are swimming in water around the Lincolnshire coast.
Skegness Pier Angling Club say they have been catching smooth-hound sharks for about 20 years, but this year has been "exceptional".
Club secretary Chas Tibble said holidaymakers have been shocked but he stressed that the sharks are harmless.
He believes a warming climate is causing them to move further north up the coast.
"When we catch these fish there are often lots of holidaymakers about and they are amazed," he said.
'Totally harmless'
"They are often swimming and playing on the beach and we pull out one of these smooth-hounds.
"They are a small species of shark but they are totally harmless. They don't have teeth, they have crushing jaws and they just feed on crabs and other small items like squid."
The club fishes at various beaches along the Lincolnshire coast and the biggest shark caught so far this year weighed 23lb 8oz.
Mr Tibble said some sharks have been big enough to break British records.
However, they are not eligible because the club releases the sharks back into the sea.
"We haven't claimed the record because we think it's archaic that they insist on the [dead] body to claim it," said Mr Tibble.
"They don't harm anybody, they are lovely fish, and it's a shame to kill them."
Angler Garry Hutson caught eight smooth-hound sharks weighing a total of 118lb in a fishing match at Chapel St Leonards on Saturday.
"We've been catching them for years off the Lincolnshire coast but this year is exceptional, both in terms of numbers and the average size of fish being caught," said Mr Tibble.
"They are definitely moving up [the coast]. I'm absolutely certain it's because the water is warming up."
John Richardson, conservation officer for the Shark Trust, said seasonal changes in environmental variables such as water temperature and oxygen and nutrient levels, could cause shark populations to fluctuate.
"Looking specifically at the waters off the Lincolnshire coast, conditions may be encouraging a greater abundance of crustacean species - the primary prey for smooth-hounds, who tend to feed on the likes of squat lobsters and crabs," he said.