Owner offers reward over horse killing in Gate Burton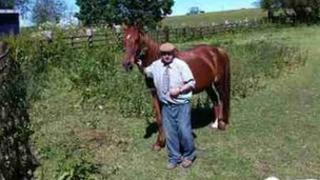 The owner of a pregnant horse, which died after being "severely mutilated", has offered a £2,500 reward for information to help catch its killer.
Rupert Worrell found 19-year-old Penny covered in blood in a field in Gate Burton, near Gainsborough, in May.
The horse was treated by a vet, but later died after her foal was delivered stillborn.
Mr Worrall said she had been assaulted after being restrained by her attacker.
Lincolnshire Police's wildlife crime officer, PC Nick Willey, said: "This was a terrible crime.
"The public have been shocked by this attack and despite significant interest in the incident we still need more information to help us catch the person or people who did this."
Anyone with information is asked to contact police.