Vulcan bomber doubtful to appear at Waddington Airshow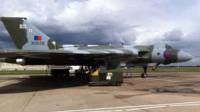 The appearance of the last flying Vulcan bomber at the Waddington International Airshow is in doubt after it was grounded due to an engine fault.
Two of its engines were "severely damaged" during an aborted take off at Robin Hood Airport last week.
The aircraft was due to fly at the airshow, which starts on 30 June, as part of a tour to mark the Queen's Diamond Jubilee.
It is expected to remain grounded for the next three to four weeks.
Robert Plemming, from the Vulcan to the Skies Trust, which restored the Cold War bomber, said it was "a real shame".
He said: "We've taken the precaution of saying to the organisers of Waddington Airshow that at this stage they should plan for the Vulcan not to appear.
"However, we are doing our utmost to bring her back as soon as we can."