Priory Academy: Report should not be released yet, says MP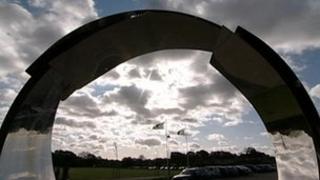 A report into a Lincolnshire academy trust which led to the resignation of its chief executive should not be made public yet, according to an MP.
Richard Gilliland, from the Priory Federation of Academies Trust, left due to an investigation into its finances.
Tory MP for Lincoln Karl McCartney has spoken with a schools minister about the government's report but said due process should be followed.
The Labour Party said the public had a right to know what happened.
Mr McCartney said: "It might be in the fullness of time that aspects of that report are made public but that's not a decision I will make and not something I'm calling for."
The Priory said Mr Gilliland, who was one of the county's highest paid public servants, earning more than £200,000 a year, resigned due to personal reasons.
'Right way forward'
However, the Department for Education said his departure was the result of an investigation into financial management.
"Obviously there were issues, and errors of judgement have been noted, with regard to the former chief executive, who immediately resigned," said Mr McCartney.
"The [Priory Federation of Academies] trust want to take things forward and ultimately they have 5,000 children whose education they look after and that's the right way forward."
Lucy Rigby, who has been selected as Labour's parliamentary candidate for Lincoln at the next election, tweeted that the government report needed to be made public as a huge amount of public money was involved.
The investigation was carried out by The Education Funding Agency, which is part of the government, but the findings were not made public.
The Priory Federation of Academies Trust was formed in September 2008 and is made up of four schools; The Priory Academy LSST, The Priory Witham Academy, The Priory City of Lincoln Academy and The Priory Ruskin Academy.