Lincolnshire Police outsourcing under spotlight at seminar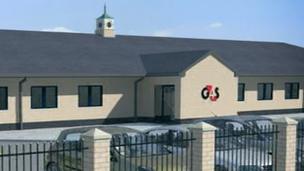 The effects of outsourcing police staff in Lincolnshire will be considered at a seminar being held later.
Police authorities from across the country are considering similar cost-saving deals, and will be able to consider if they can benefit.
A 10-year contract between Lincolnshire Police and private security company G4S began on 1 April.
Under the contract, two-thirds of civilian police staff have transferred employment to G4S.
The force's Chief Constable Neil Rhodes said: "It's great for Lincolnshire to be being talked about nationally for all the right reasons.
"Already Surrey and West Midlands announced a couple of months ago that they are going to let a very similar contract for police services.
"I think what was a little bit controversial about their offer was that their bid actually opens the way to some patrol functions. That's very much not the case in Lincolnshire."
Lincolnshire Police Authority expects the outsourcing to save money and increase the time officers can spend on the frontline.
A total of 544 staff transferred on 1 April, including those working in finance, human resources, custody, the force control room and firearms licensing.
The police authority previously employed 813 full-time civilian staff, as of 14 February.
The contract with G4S contains an option for an extension to 15 years.
The deal also includes a proposal to build a purpose-built custody suite at the force's headquarters in Nettleham, where the seminar is being held.