Boston 'worst area' in East Midlands for business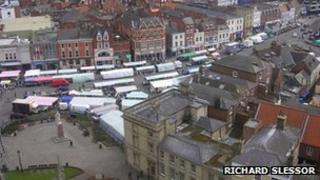 A Lincolnshire town is the worst performing area for business growth in the East Midlands, according to research commissioned by the BBC.
The study, by Experian, counted the number of new companies and firms made insolvent in local authority districts (LADs) across England.
Boston ranked 298th out of 324 after its total number of companies fell from 3,020 to 2903 in the last two years.
Lincolnshire's Chamber of Commerce said a variety of factors were to blame.
'Shrinking market'
Chief executive Simon Beardsley said members had identified a lack of investment in road and rail infrastructure as a potential contributory factor, as well as Boston's classification as a high-risk flood area.
Members had also reported a "brain drain" with large numbers of bright young people leaving to attend university but very few returning to live in the area.
He said: "There has been some reduction in the total as a consequence of take-overs and mergers, particularly in the legal and financial sectors.
"Also, there is simply less product on the move and fewer people travelling - small hauliers and small bus companies are less evident.
"Overall I would say it is a picture of fewer companies fighting for a share of a shrinking market while costs continue to rise."
The study ranked West Lindsey and North Kesteven as Lincolnshire's best performing areas for business growth, putting them 186th and 189th respectively.