Task force set up on immigration in Boston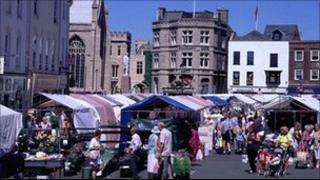 A council has set up a task force to look at the effects of immigration in a Lincolnshire town.
It is in response to a planned protest on the issue in Boston organised by resident Dean Everitt.
Mr Everitt had organised the rally in November but has now agreed to postpone it after a meeting with Boston Borough Council.
The council said it was also trying to set up a meeting between Mr Everitt and the Home Office.
'Public safety'
Mr Everitt said: "We found some common ground in the meeting about the impact of immigration levels on Boston and we've decided to call the march off for the foreseeable future after accepting assurances that action is going to be taken.
"The march was to get the attention of the local authorities to make them aware that there was a problem.
"In public safety interests this is a better way round it."
Andrew Malkin, from the borough council, said Mr Everitt would be a member of the task force, which would meet regularly.
He said Home Office representatives were due to visit Boston in early November and the authority was trying to arrange a meeting between them and Mr Everitt.
Councillor Peter Bedford, leader of the borough council, said: "What we don't need now is disruption in the town.
"I know many businesses have been anxious about a protest, especially in view of talk of other groups, some from outside Boston and even Lincolnshire, coming to the town."
Assistant Chief Constable Carl Langley said: "We welcome the decision to cancel the march as this was having an impact on the community, causing significant concern."
Mr Malkin said no official figures on the number of migrant workers in Boston were available but it was thought to be in the region of 9,000.