University of Lincoln urged to hurry on portable cabins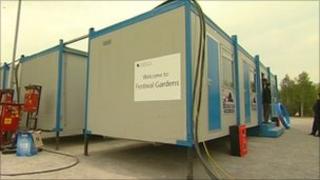 Students at the University of Lincoln who have been living in portable cabins since September want the university to "hurry up" with permanent housing.
The cabins were set up at the Brayford Wharf campus after the university said it had had more accommodation requests than usual.
About 160 students were originally put in the twin-room units. All but 75 have now been housed elsewhere.
The university said the rest would be re-housed before Christmas.
About 30 would be moving out in the next three weeks, it added.
Chris Spendlove, the university's registrar, said the university had "done its best in the circumstances".
'Quite expensive'
"We've gone the extra mile to make sure all of our students can be accommodated on campus," he said.
"In a lot of other cities there is a lot of accommodation out there in the city which students can go into.
"We looked into the situation in Lincoln and realised that there wasn't sufficient capacity in the city to soak up the late applicants and we decided to do something about it."
First year English and drama student Fotini Efstathiou from Southampton, recently moved out of one of the cabins.
"To share a room, it was £30 a week but to have a cabin on your own it was £60 a week which I think is quite expensive," she said.
'Sympathy stopped'
"One of my friends lives in town and I think she pays £55 a week and she's got a nice double bed, a bathroom and kitchen and to think she's paying £5 less than someone in a cabin on their own is quite bad.
"We weren't really told what was going on. It's disgraceful if I'm absolutely honest.
"We've all ended up spending so much money, because we had to go out to eat every night which got quite expensive."
Nicholas O'Connor from Nottingham is studying public relations and journalism and said he got a "bit of a surprise" when he arrived at the portable cabins, but was told it would only be for a short time.
"I heard the maximum of two weeks, and then a month," he said.
"Everyone understood they got into university late and at least we're in university but hurry up now, this is going beyond a joke.
"They were sympathetic for a while, but after a while their sympathy stopped."