Six-month cultural festival planned for Lincolnshire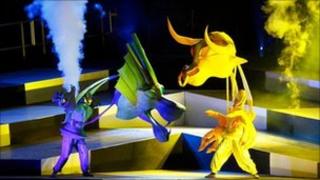 A cultural celebration to coincide with the 2012 Olympics, that will last six months, is planned for next summer on the Lincolnshire coast.
Councillors in East Lindsey said they wanted to encourage visitors to the Games in London to come to the county.
The council has been bringing international cultural and arts performers to Skegness as part of the SO Festival for the past three years.
The plan for the cultural celebration in 2012 is on a larger scale.
East Lindsey District Council leader Doreen Stephenson said the authority had a proven track record for hosting events.
"The district covers 700 square miles and we're going to spread it out through the district from April through to October with a concentration on the last week of June, because we know the torch will be making its trip around the UK at that time," she said.
"We are very aware that we have the Egyptian Paralympic team coming to Lincolnshire, we also have the Japanese team training in Loughborough, the Chinese in Leeds and recently we heard the Icelandic team is likely to go to Hull.
"They will be bringing not just their teams but also their followers, their families and supporters."