Lincoln Christmas market oversubscribed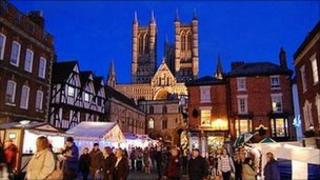 Lincoln's Christmas market has been oversubscribed by traders wanting a stall, organisers say.
The market attracts about 160,000 visitors and contributes millions of pounds to the city's economy.
Last year the event was cancelled for the first time in 28 years due to severe weather conditions.
The City of Lincoln Council said it would do everything it could to make sure this year's market, to be held from 1 to 4 December, goes ahead.
John Latham, director of development and environmental services, said: "People will be looking. I'm confident that we will be able to put on an excellent event."
Mr Latham said interest from traders had been "incredible".
"We've got over 260 booked. People missed it last year," he said.
"There's going to be some street theatre and we've got an area for craft stalls so children can make Christmas cards and decorations but essentially it's the same Christmas market.
"We will obviously be keeping an eye on the weather and all of the other long range planning to make sure the market goes ahead and be a success," he said.
"Hopefully we'll get just enough snow to create the right sort of atmosphere."