Asylum seekers continue hunger strike in Lincolnshire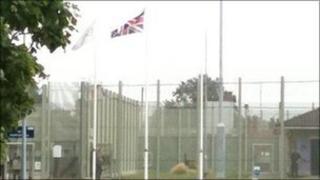 Failed asylum seekers from Afghanistan who began a hunger strike outside a Lincolnshire immigration centre are continuing their protest inside.
The 18 men started the hunger strike as a protest against plans to return them to Afghanistan.
One of the men told the BBC that guards returned them to their blocks at Morton Hall near Lincoln on Saturday morning.
The UK Border Agency said it would only return people who did not need protection in Afghanistan.
The hunger strikers said they had been promised they would be able to speak to an immigration officer.
Mohammad Nadi Mengal told the BBC: "We left Afghanistan about eight year ago, nine year ago, 10 year ago. Our country is not safe."
He said he was continuing his hunger strike inside the facility, adding the hunger strikers had been put in separate rooms in the centre.
Mr Mengal said he had refused to eat food, but had taken some liquids.
Morton Hall was formally a women's jail and was turned into an immigration removal centre earlier this year.