University of Lincoln in accommodation delay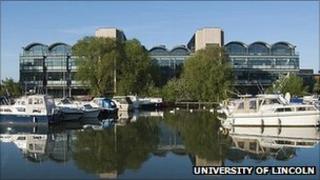 About 200 first-year students at the University of Lincoln are waiting to hear where they will be living for the new academic year.
The university accommodation team said it had experienced a higher than normal request for student housing.
An email has been sent to staff asking if they can help out with spare rooms.
The university said temporary accommodation will be set up for the students. Induction week for first years begins on Monday.
'Re-allocating places'
In a statement, the University of Lincoln said: "More people are asking for help with finding accommodation this year, with fewer people living at home with their parents.
"It is therefore taking longer than normal to find accommodation, but we are determined to help find places for everyone.
"Every year we see students holding offers of accommodation that they then do not take up, so the team is re-allocating places as soon as they become available to the next people on the waiting list.
"The university is also taking the measure of sourcing additional accommodation, including temporary accommodation, that will enable people to come to the city for welcome week while they are waiting for a permanent room."