Police 'missed risk increase' ahead of Boston murder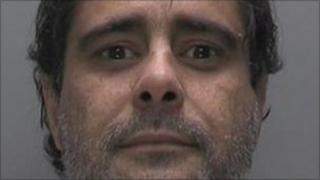 Two Lincolnshire police constables are facing a misconduct meeting over errors in the force's contact with a woman before she was murdered.
Isabel Trindade was stabbed to death by her estranged husband Antonio Goncalves in Boston last October. He was jailed for 28 years at Lincoln Crown Court.
The court had heard she had contacted police over threats to kill her.
The Independent Police Complaints Commission said incidents were wrongly classified and risk assessments missed.
Goncalves 45, formerly of Ingram Road, Boston, stabbed Ms Trindade 21 times during the attack at a house in Argyle Street.
Lincolnshire Police referred the case to the Independent Police Complaints Commission (IPCC) the day after the murder.
The IPCC investigation examined 15 domestic incidents dating back to 2007 - eight of them in 2010 - where police responded to calls involving Goncalves and Ms Trindade.
Disciplinary action
IPCC Commissioner Amerdeep Somal said: "The investigation found that some officers failed to complete risk assessment forms when they should have done and control room staff wrongly closed a number of incidents as anti-social behaviour rather than domestic matters.
"This combination of factors led to specialist domestic abuse officers being unaware of a pattern of increasing harassment, and an opportunity to identify an escalation of risk to Ms Trindade was missed."
The IPCC also found uncertainty among a number of officers as to what constituted an incident of domestic abuse and when a domestic incident risk assessment was required.
Det Supt Guy Collings, from Lincolnshire Police, said there had been extensive changes to the way domestic violence was dealt with.
He added: "Training in the ACPO Domestic Abuse, Stalking and Harassment Model started in April 2010 and in the first year 1,090 staff and officers took part, with a further 24 courses planned for this year.
"Reported incidents of domestic abuse have increased over the last few years, demonstrating the public's increased confidence in our abilities to ensure their safety and detect the crimes they have suffered."
The misconduct meeting will decide whether action should be taken against the officers.