Photo request to help win award for Lincoln's Steep Hill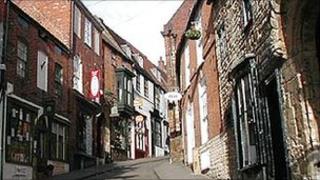 An appeal for photographs of Steep Hill, in Lincoln, has been made in a bid to win an award.
City of Lincoln Council is up against Byres Road, Glasgow and Cockburn Street in Edinburgh in the hope the hill will be named Britain's Best Place.
The award, from the Academy of Urbanism, highlights places that are well planned and a "success", said honorary president John Thompson.
Judges visit Steep Hill, leading to the city's "historic heart", next week.
'Truly unique'
Mr Thompson said: "We haven't spent enough time learning about great places and as a result we have some good buildings - but name me a great place that was created in the last 100 years.
"The Romans were the best place-makers that ever worked in this country, they understood about place and community."
Councillor Neil Murray said: "Walking up and down Steep Hill is a truly unique experience.
"The businesses and people, views and glimpses you come across on Steep Hill, on your journey up to the historic heart of Lincoln, are interesting and varied."
The winner of the Great Street Award will be announced in November.