Businessman reintroduces Grantham gingerbread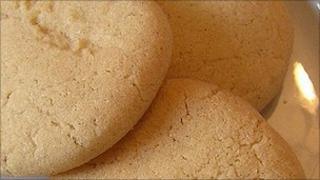 A Lincolnshire businessman has brought a delicacy back to its traditional birthplace as a commercial venture.
Alastair Hawken said the macaroon-like Grantham Gingerbread had not been made commercially in the town for more than 50 years.
It is believed an 18th Century local baker discovered the recipe after a mistake while making biscuits.
Mr Hawken, who owns a coffee bar in the town, is to supply the De Vere hotel at Belton Woods, but has global ambitions.
Mr Hawken said he will be "looking to export to America and Asia where there is interest".
Tradition holds that the baker made a mistake with ingredients while producing whetstone biscuits, a hard snack intended for travellers.
Mr Hawken does not know why the tradition ceased but hopes to help raise Grantham's profile through his new venture.
"If you travel around the country areas are famous for their local delicacies.
"Grantham gingerbreads are fantastic biscuits and we should be making them once more in Grantham.
"It's a very small biscuit like a macaroon, and it has light honey-comb texture.
"It's so important that we should celebrate it."
The biscuit is such a part of local tradition that Grantham Town Football Club is nicknamed The Gingerbreads.