Council and charity disagree over Boston's homeless figure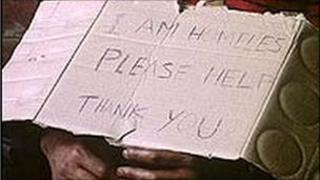 Volunteers at a homeless charity in a Lincolnshire town have accused the local authority of refusing to recognise the "hidden" homeless.
Centrepoint Outreach in Boston said they helped about 40 homeless people each month.
Boston Borough Council's official homeless figures for the town are between eight and 12.
Councillor Mike Gilbert said the argument "fundamentally comes down to how you define rough sleeping".
"Rough sleeping is people sleeping out in the open," he said. "That's how the government define it.
'Needle in a haystack'
"The sort of people we don't include in that definition are those who are staying with friends - the sofa surfers and other people who don't experience a total lack of dignity associated with being exposed to the elements and sleeping out in the open."
Centrepoint Outreach charity manager John Marshall said that many homeless people remain hidden at night for safety.
"We know that people sleep in garden sheds, derelict buildings, motor vehicles, and in tents on the riverbank," he said.
"You can't just go around and do a street count."
Andy Fisher, Boston Borough Council's head of housing, property and communities, said services were accessible and the department needed the public to come forward and give information about homeless people so his team could investigate.
"We don't have the facilities to go on a wild goose chase," he said. "It's like looking for a needle in a haystack.
"We have to be very careful about how we spend public money but with people passing on information about homeless people we will investigate them."
Mr Fisher stressed that the figure of eight to 12 was by the government's definition of homelessness. These are the figures that will be handed in to the government's annual homeless survey.
He said the council also had a scheme to help migrant workers return home if they lost their job and were at risk of becoming homeless.
"Sixty-eight people have been repatriated since the scheme began over 18 months ago," he said.