New mosque part of plans submitted for old dairy site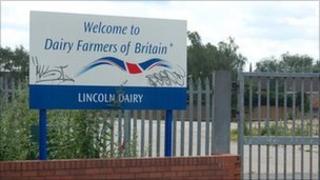 The Islamic Association of Lincoln has submitted plans for the city's first purpose-built mosque to be built on the site of a former dairy.
The plans are part of a joint proposal led by the Lincoln Co-operative Society to develop the Boultham Park Road site.
Plans submitted previously to convert a nearby church were rejected because of concerns about an increase in traffic.
Dr Tanweer Ahmed, of the association, said the new site was much bigger and he was hopeful of a positive response.
'Positive development'
"We hope we have now resolved all the issues and concerns raised by local residents.
"The new site would have enough space for 70 cars, whereas the old site only had enough space for 17 cars.
"The entrance to the new site would be from the main Dixon Street junction where thousands of cars already travel past every day - so I don't think there would be any impact on local residents of a few cars going to the mosque," he said.
Dr Ahmed said the association had been looking for a suitable site since its plans to convert a nearby church into a mosque were turned down by the city council in 2009.
"The plans are at a very early stage and they are part of a mixed proposal led by the Co-op to build a mosque, houses and supermarket on the site.
"We looked at a number of sites in the city and decided that this was the most suitable - it's a very positive and exciting development for all of us.
"We now have to wait for the planning committee to approve the proposal and then we can submit a detailed planning application."