Shepshed Centenarian Ivy Mosely takes to race track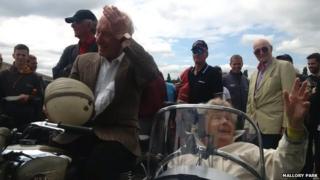 A 100-year-old woman has celebrated her centenary by riding in a motorbike sidecar at a Leicestershire racetrack.
Ivy Mosely, of Shepshed, who is a self-confessed "thrill seeker", said the ride at Mallory Park on Sunday was "unbelievable".
"I've always had a love of motorbikes … I had four brothers and I suppose that is where it has come from," she said.
She completed three laps in a BSA 650cc and its 1950 Golden Flash Sidecar, piloted by former racer Colin Seeley.
Rossi fan
Mrs Mosely has always been interested in motorbikes, but her father would not allow her to have one.
"They wouldn't dare risk me on two wheels - I was enough trouble on four."
Her one regret in life was not becoming a motorcycle racer, she said.
The Shepshed grandmother reached a top speed of about 60mph (97km/h) in the 1950 sidecar provided by the National Motorcycle Museum for the event.
Mrs Mosely, who is a big fan of motorcycle racer Valentino Rossi, celebrated her birthday in May.
She marked the milestone by being driven by her grandson at a top speed of 168mph (270km/h) around Silverstone in a McLaren.