Leicestershire meals on wheels service could lose subsidy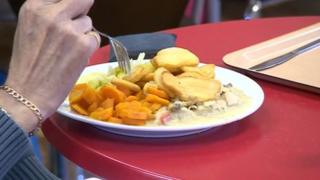 Meals on wheels in Leicestershire could almost double in price if a £300,000 annual subsidy is removed.
The county council is considering dropping the subsidy for the 350 people who receive the dinners, raising the cost of a meal from £3.25 to £5.90.
It said the saving would safeguard other services and the meals were still good value.
Age UK said it was concerned at the erosion of services for the most vulnerable in society.
The proposals could also see cuts to meals provided at day centres and lunch clubs.
'Good value for money'
County Hall is also considering charging people released from hospital after they are sectioned under the Mental Health Act.
Dave Houseman, Leicestershire County Council's cabinet member for adult social care, said: "Even by removing the subsidy, the meals still represent good value for money and this proposal will enable us to continue to deliver the service and meet our savings."
Tony Donovan, from Age UK, said the cuts will likely cost the council and NHS more in the long run as elderly people's health will decline as a direct result of the changes.
"I'm surprised and disappointed that Age UK wasn't directly involved," he said.
"We can understand that the council is facing several difficulties but the reality is that the amount being saved is insignificant against the greater amount of money that they have to save."
A consultation on the changes will run until 11 August.
Last year, Leicester City Council ran a similar consultation on its meals on wheels service which resulted in a scrutiny commission calling for the council to reconsider how it carries out consultations.