Hinckley's £80m Crescent scheme to start 'within weeks'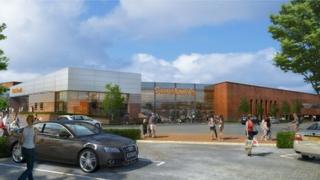 A much-delayed £80m regeneration scheme in a Leicestershire town is to begin imminently, officials have said.
The Crescent in Hinckley - which will include a supermarket, cinema, restaurants and bus station - was approved in 2011.
But a series of problems with money and designs put the project in doubt.
Now, Hinckley and Bosworth Borough Council has said the final legal agreements had been made and construction will begin "within weeks".
Officials said the council is about to give notice to all landowners on the site of its intention to proceed with the work.
In addition, Tin Hat Regeneration Partnership, which oversees the project, has appointed contractors to start building.
The first shops are due to open in autumn 2015.
The council has been considering plans for redevelopment since 2000 but faced numerous obstacles including the withdrawal of the original supermarket partner.
Renewed proposals in 2010 had hoped to see work completed by 2014 but they were again delayed and in 2012 fears were raised it might be shelved entirely.
The completed scheme is expected to bring 800 jobs to the area.