Kirkby Mallory residents' views sought over race track changes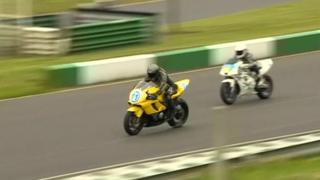 People living near a renowned Leicestershire race track are being consulted about plans to alter the number of race days and noise limits.
The previous operators of Mallory Park went bust after a legal battle over noise levels following complaints from Kirkby Mallory residents.
The borough council hopes the proposals will allow the new owners to have race days this year, if approved.
The circuit reopened last month with non motor racing events.
Hinckley and Boswoth Borough Council said it was drawing up new guidelines for Real Motorsport Limited on the number of race days it would be allowed to hold a year, how those days are distributed and noise levels.
Council chief executive Steve Atkinson said: "The recommendation would be that we issue a notice that is based mainly on activity levels and distribution, not on noise levels for the first year and weekend activity would be much more limited.
"Real Motorsport want to operate this year, but they want some confidence that it will be able to operate in future years.
"If members approve it, the new operators could have race days this year in a limited fashion... and then we can talk about next year.
"It will give residents some confidence that they are to be trusted and that the noise isn't going to be at a level it has been in the past."
However, Mr Atkinson added: "We're not going to please everybody, but it's going to be a significant step in the right direction."
The previous owners breached the council's 1985 enforcement notice, which dictated how many days the track could be used a year and restricted noise levels.
New operators Real Motorsport Limited said it wanted to improve relations with its neighbours.