Uplands School: Special measures after Ofsted inspection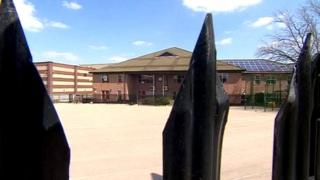 A Leicester junior school at the centre of a legal dispute has been placed in special measures.
Last year the city council won a court case against former governors over its intervention at Uplands Junior school, prompted by a row over staffing.
Ofsted visited the school on Melbourne Road in January.
Inspectors said events had led to a decline in standards which managers and former governors had not properly dealt with.
Staff held a series of strikes early last year over a restructuring plan, and this ultimately prompted the city council to take away the governing body's powers.
'Right to intervene'
This was in turn challenged by the former governors.
In November the judicial review found the authority was right to intervene and bring in an interim executive board but expressed dismay at the £80,000 costs incurred.
In 2012, Ofsted rated the school as good, but it was now found to be inadequate in three out of four areas.
The report noted: "Leaders' checks on teaching do not always focus enough on the progress pupils make in lessons.
"Feedback to teachers and the school's management of teachers' performance have not led to improvements in teaching."
Vi Dempster, assistant city mayor responsible for children, young people and schools, said she was confident of turning the school around.
"The Ofsted inspectors' findings show that we were right to intervene at this school when we did," she said.
"Our priority remains to ensure that children at Uplands get the best possible education, and we will continue to work closely with the school to make improvements."