Leicestershire County Council budget cuts see 700 jobs go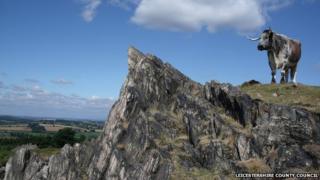 Plans to axe 700 jobs at Leicestershire County Council in a bid to plug a £110m funding gap by 2018 have been approved.
The cuts from its 6,700-strong workforce come on top of 600 redundancies over the previous three years.
The Conservative-led council also agreed to cut funding to Snibston Discovery Museum, in Coalville.
It scrapped plans for a 1.5% council tax increase and has instead accepted a £2.4m grant from central government.
The Tory cabinet said it identified £87m in savings and increased income over the next four years but that it still needs to find £12.5m in 2017/18.
Council leader Nick Rushton said the authority had to make tough decisions.
He said: "We've done the best we can. We've sought to protect frontline services and we've gone for zero council tax rise.
"We are in exceedingly tough times… for sure the structural deficit is not coming to an end and that needs to be dealt with."
The cuts, which were passed by a 28-22 vote at the meeting, included:
Children and young people's service: £12.6m, including "efficiency savings" and cuts to social care placements
Adults and communities: £22.7m including £1.9m from museums and libraries
Snibston Museum to lose £250,000 of funding, a third of its income
Environment and transport: £18.7m, mostly from "efficiency" plus cuts to street lighting and roads maintenance
Other savings include cuts to voluntary groups and maintenance of country parks
Mr Rushton added: "Even in an austere budget like this we will see substantial growth in adult social care and growth in children's services and growth in work in the health service."
Max Hunt, leader of the Labour group, said cutting support staff to the political parties could have saved the council £110,000.
He said Labour councillors would continue to fight cuts to street lighting during upcoming budget discussions.