Man 'wanted to scare Sikh leader' Sri Satguru Uday Singh Ji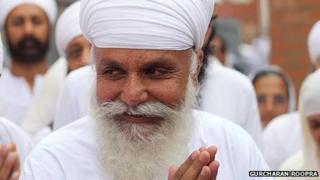 A man who launched an axe attack on a Sikh religious leader at a temple told a court he bought the weapon with the intention of scaring his victim.
Harjit Singh Toor, 27, admits wounding but denies the attempted murder of Sri Satguru Uday Singh Ji in Leicester.
Mr Toor told jurors he was torn between wanting to frighten the leader and wanting to cause him harm.
Prosecutors at Birmingham Crown Court allege the attack was motivated by religious hatred.
Mr Toor has previously told the trial he was abused by the religious leader in India in the 1990s.
During the third day of the trial, Mr Toor of Oadby, Leicestershire, admitted he had hidden an axe under his shawl when he went to the Gurdwara Namdhari Temple in Linden Street on 11 August last year.
Sri Satguru Uday Singh Ji, described by police as the worldwide spiritual head of the Namdhari community, had been in the UK a matter of hours when he visited the packed temple.
He suffered a head wound as well as a fracture to his right arm in the attack.
'Emotions erupted'
Answering questions from his barrister, Francis Laird, Mr Toor said: "I was toying back and forth. I wanted to hurt Uday, I wanted to cause him harm.
"I remember thinking, as I was walking up to him, that I just wanted to scare him... and make him realise that I hadn't forgot.
"My emotions just erupted and I just remember wanting to hurt his hands. That's when I charged up on to the stage and swung the axe."
Describing himself as a mainstream Sikh with no personal animosity towards the Namdhari community, he added: "It's probably the biggest mistake I have ever made in my life.
"I accept what I have done was wrong."
Giving evidence via video link on Tuesday, the religious leader rejected claims he had abused Mr Toor at the Indian headquarters of the Namdhari branch of Sikhism.
He said he had never visited the village where the alleged abuse took place and called the allegations "totally absurd."
The trial continues.