Charnwood 4,500 homes plan submitted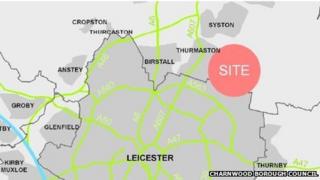 After eight years of planning, developers have submitted detailed proposals to build 4,500 homes on farm land in the north east of Leicester.
The £445m project would see houses, schools, health care services and shops built near Hamilton and Thurmaston.
Developers Commercial Estates Group said thousands of construction jobs would be created as part of the plans.
However a local action group has been campaigning to halve the number of homes planned for the area.
Barkby and Barkby Thorpe Parishes Action Group (BABTAG) said the plans would overwhelm services and destroy the area's rural character.
'Transport problems'
Owen Bentley, of BABTAG, said a rural part of the county "would be completely concreted over".
"It would be a huge shame and a lot of agricultural land lost," he said.
Mr Bentley added: "There will be huge transport problems because the infrastructure cannot really cope with it."
Commercial Estates Group said: "The proposals make a significant contribution to meeting the objectively assessed housing need for the borough.
"Public consultation has been extensive and has helped shape the master plan."
Charnwood Borough Council said a housing shortage had to be addressed.
A spokesperson said: "The council is committed to ensuring the borough continues to grow and prosper, but also has a duty to ensure it is protected for future generations and so judges all planning applications on their own merits.
"We are currently consulting with residents, businesses and stakeholders about this application and will accept comments until February.
"It is expected that the plans committee will consider the application later this year."
The East Midlands Regional Plan 2009 established a housing target for Charnwood of 15,800 homes between 2006 and 2026.
The borough council said it still needed to deliver almost 13,000 new homes by 2028.
It added that the locations of almost 6,000 of these new homes remained to be identified.