Eyres Monsell residents object to Gypsy church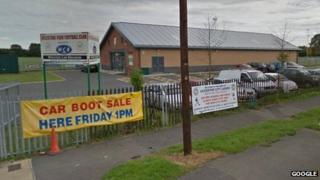 Plans to build a Gypsy Church in a former football club-house are expected to be approved by councillors despite more than 1,000 objections.
The place of worship will be at the former Aylestone Park FC site in Eyres Monsell, Leicester.
The leader of the church, Pastor Jackie Boyd, defended the proposals and said it would be a positive move for the community.
Residents said it would lead to parking problems on the streets nearby.
'Caravans and horses'
John Boyce, form Oadby and Wigston Borough Council, said the reason why the football club moved was due to a lack parking space.
He said: "They [worshippers] will come from outside of this area... that means there will be more traffic, more traffic will have a greater impact on residents.
"It is not about religion it is about usage of this site, I wish the Gypsy community well."
One man, who did not give his name, told BBC Radio Leicester: "You don't know what's going to happen... caravans will be parked at the back, horses, they'll have Gypsy weddings and God knows what."
Pastor Jackie Boyd, from the Life and Light Gypsy Church, said: "I don't know anybody who takes a caravan and horse to church.
"All of our churches are open to everybody... the gospel of Jesus Christ isn't just for Gypsies or non-Gypsies, it's for everyone.
"The reason it's called a Gypsy church is because we know the culture and we know how to reach our people, that's our main aim."
The proposals are expected to be approved by Leicester City Council on Wednesday evening.
A previous application to convert the club house into a medical centre was rejected because it could not be proved it was needed.