Richard III: Battle story told through artwork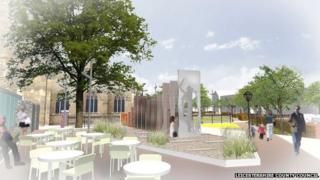 Artwork telling the story of Richard lll's death is to be installed as part of improvements to Leicester's Cathedral Quarter.
The newly-developed area, combined with neighbouring sites, will create an outdoor event space with seating for up to 800 people.
A statue of the last Plantagenet king, currently in Castle Gardens, will also be moved to the area.
The 12 steel plates are designed to reflect his final moments in battle.
'Reflect the brief'
Leicestershire County Council commissioned the art - provisionally titled Towards Stillness - as part of its £250,000 contribution to the redevelopment of the gardens, in partnership with the cathedral and city council.
It was created by London-based firm Dallas Pierce Quintero (DPQ) and was designed to fit with a brief of moving the king's body from Bosworth, his burial and rediscovery by archaeologists.
County council leader Nick Rushton, who was on the selection panel, said: "There was a lot of interest from the general public when the designs went on display, but we thought the DPQ work best reflected the brief."
It is expected to be unveiled in the spring.