Severn Trent's 'tallest wind turbine' set up in Wanlip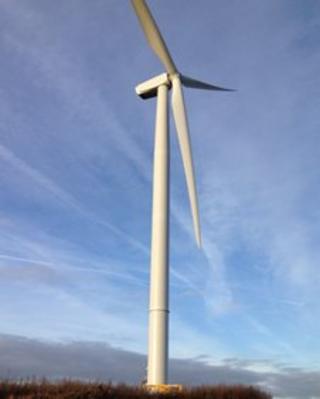 A 132m-high wind turbine that is six times taller than the Angel of the North, has been installed in Leicestershire.
Nicknamed "Windy", it is located at the Severn Trent sewage works in Wanlip and is due to be operational by Christmas.
Some residents had opposed the scheme because of the noise from the turbine blades and its visual impact.
Severn Trent's Jon Beeson said however, it was a positive step towards meeting the firm's renewable energy targets.
He said: "A huge amount of energy is needed to provide water and waste water services to our customers.
"So, when Windy is in use, it'll help us to limit the amount of electricity we need to take from the national grid."
The wind turbine will reduce carbon emissions by 3.7 tonnes annually, he added.
Residents raised concerns the structure was too tall and would harm the appearance of the surrounding countryside and the Soar Valley.
But, approval for the scheme was granted in 2011.