Man used Austin Mahone photos to groom Facebook girls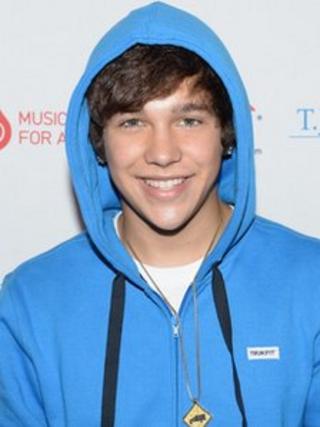 A man who used images of a US pop star to help him groom girls over the internet has been jailed.
Ian Sluggett, 40, pretended to be a 16-year-old boy when he made friends with girls aged between 13 and 16 on Facebook.
He downloaded images of singer Austin Mahone and used them instead of profile photos of himself.
Sluggett, of Whetstone, Leicestershire, was jailed for 10 years after pleading guilty to 23 sex offences.
Det Insp Richard Hiom said: "Young people need to understand that there are people who will lie on social media sites to satisfy their own sexual needs.
"Our advice is to only have friends on social media sites that you actually have previously met and know."
Seventeen-year-old Mahone, who has almost five million Twitter followers and has been compared to Justin Bieber, is more popular in the US than in England, where Sluggett's victims lived.
Indecent photo threats
Sluggett, who has three children and is separated from his wife, sent indecent photos of himself to some of the girls and persuaded some of them to send him indecent images of themselves.
He threatened to publish the images if the girls did not comply with his demands for increasingly explicit photos and videos.
He met some of the girls in person, and coerced them into having sex.
Police investigated him after a teacher overheard two pupils talking about how one was being coerced to send indecent photos.
Sluggett pleaded guilty to a string of offences, including two counts of sexual activity with a child, and one count of causing or inciting a child to engage in sexual activity.
He also admitted five counts of attempting to cause a child to engage in sexual activity and one count of engaging in sexual activity in the presence of a child, as well as offences relating to grooming and indecent images of children.
Police said there could be other victims and urged them to get in touch.