Uplands School: Judge says children 'forgotten' in row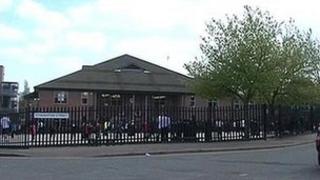 A High Court judge has raised concerns that the education of children has been forgotten amid a management row between a city council and school governors.
Mrs Justice Thirlwall said interests of pupils at Uplands Junior School in Leicester had been lost in the wrangle.
A judicial review was called after governors claimed the council's decision to suspend the head teacher and remove their powers was "unlawful".
Justice Thirlwall has reserved her judgment until Friday.
During the hearing at London's High Court, it was heard council officers claimed governors failed to comply with a warning notice issued in July to fix the "fracture" between the board and staff over proposed restructuring.
'Not turf war'
Mrs Justice Thirlwall told both sides: "What is conspicuous in its absence from the court papers is any reference to any of the real effects on the children's learning.
"This was something that struck me. It is really a rather important and surprising feature of this case."
Paul Greatorex, representing the governors, said this "was not a turf war" and argued the board had tried to avoid litigation for the good of pupils.
This year staff at the school staged three one-day walkouts over restructuring plans which would see eight teaching assistants made redundant and replaced with "better qualified" teachers.
Staff backed a vote of no confidence in head teacher Dr Tim Luckcock and the chair of governors Abid Matak over the cuts and the way the school was being run.
Heavy legal costs
Mr Greatorex said the council had "bowed to union demands" for Dr Luckcock to be suspended in September in order "to keep the peace".
He added: "The local authority, having agreed this restructure with the school, should not have been particularly surprised that there was some form of objection from members of staff."
Clive Sheldon QC, for Leicester City Council, said the authority had always acted in good faith and in pupils' interests, and became concerned that Mr Matak had been appointed after his previous removal from the board.
Dr Luckcock, who was also represented as an interested party, remains suspended but has lodged a formal grievance.
Mrs Justice Thirlwall said the heavy legal costs of the fight could have been more usefully spent on the good of the school, which currently has 16 teachers.
She added: "It does seem to me extraordinary.
"I don't know how much money has been spent on this, but I do think it would have paid for a lot of staff."