Father vows to fulfil fire death family's dream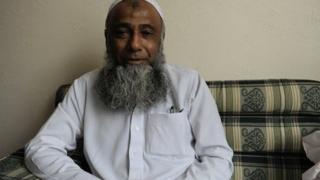 A man who lost his entire family in a house fire in Leicester has promised to dedicate his life to completing the work his wife and children left unfinished.
Dr Muhammad Taufiq Al Sattar's wife Shehnila Taufiq, 47, his daughter Zainab, 19, and two sons, Bilal, 17, and 15-year-old Jamal died in September in a suspected arson attack at their home in Leicester.
Since their deaths Dr Sattar said his focus had become his wife and children's dream of opening a community centre and school.
He said his faith had given him the strength to move forward with his life.
"I miss them very much, I feel alone and sad at times, but slowly I am getting more strength," he said.
"I need to continue with all my duties; this is the teaching of the Koran."
At the time of the fire, Dr Sattar, a 52-year-old neurosurgeon, was working in Dublin, but travelled at weekends to see his wife and children.
His family moved to Leicester so that his daughter and two sons could gain an Islamic education while he worked in Ireland.
The devout Muslim family were dedicated to helping communities around them and wanted to spread the positive principles of Islam through their work, he said.
Dr Sattar said the family always wanted to open an education and community centre at Warrenstown House in the Blanchardstown area of Dublin.
'Peaceful and tranquil'
The dream of opening a centre in Ireland was the reason the family came to Leicester.
The children wanted to gain a theological understand of Islam so that they could spread and implement what they had learnt when they returned to Dublin.
Dr Sattar says he will now fulfil the vision his family were unable to achieve while they were alive.
He is hoping to open the centre in Dublin next month.
"Islam is a peaceful and tranquil religion and this is what we want to spread," he said.
"The centre will be for all communities; we can have interfaith dialogues and try to spread the good things about Islam."
He added: "While my family was alive, I was more engaged in my professional activities, I thought this job was to be conducted by my family, but now the situation is different.
"I have now accepted this task and I will continue doing this for the rest of my life."
Eight people have been charged with the murder of Dr Sattar's family.
About 7,000 people attended a prayer service for the family in Leicester before their burial in Dublin.
He said the support he had received from the community in Leicester, Ireland and the rest of the UK had help him immensely.
''It is so helpful to know that the community in general is with me and that they feel pain for me in their hearts.
"They continue to give me moral support through this."
BBC Asian Network will feature an interview with Dr Sattar on Wednesday 27 November at 1300 and 1700.