Residents vow to fight Leicestershire bus cut plans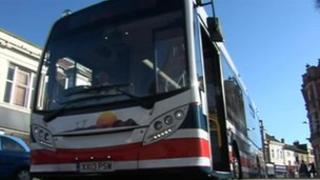 Residents of a Leicestershire village have vowed to fight plans to cut and alter their bus services.
Leicestershire County Council has begun a consultation into a number of routes as part of its plans to save £70m by next year.
One proposal is a dial-a-ride service which would have to be booked up to 24 hours in advance.
But some Belton residents have said they would feel isolated if the bus services were cut.
'Heavy' subsidies
"A couple of elderly ladies have told me they'll give up on life and there won't be anything for them to live for anymore if they don't meet people on the buses," said Rosemary Johnson, who is heading a campaign against the cuts.
"That's their way of communicating with the outside world."
Peter Osborne, the county council's cabinet member for highways and transport, said the cuts could save the authority about £750,000 a year.
"Each of these routes is subsidised and under-used with some carrying an average of one or two passengers per journey and the most heavily subsidised costing the council more than £14 per passenger per journey.
"With the tough savings the council has to make, this is unsustainable."
The consultation will run until the middle of December.
Services 7, 23/24/25, 44, 55/56, 100/128, 113, 129, 155 and the Rural Rider are under review.