Loughborough terror accused 'plotted Columbine-type deaths'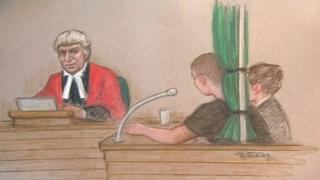 A 17-year-old boy plotted to carry out a terrorist attack at his old school on the 15th anniversary of the Columbine attacks, a court was told.
The boy, from Loughborough, kept a photograph of two teenagers who murdered 13 people at Columbine High School, in Colorado, in 1999.
The Old Bailey heard he had considered killing himself, and other people, as he felt angry and depressed.
However, he denied wanting to copy the killers during cross-examination.
The teenager, who cannot be named for legal reasons, kept a picture of Eric Harris and Dylan Klebold, who killed 12 students and a teacher at the US high school.
Prosecutor Max Hill QC told the court the teenager intended to carry out his attack, which he referred to himself as "the operation", on 20 April, 2014.
Asked if that was correct, the defendant, who has Asperger's syndrome, replied: "Quite possibly, yes."
'No more mosques'
The boy denied 20 April was a significant date for him as it was the day of the Columbine murders and the day Adolf Hitler was born.
Mr Hill asked if by April the defendant intended to have a gun licence.
He replied "possibly, yes" and also told the court he wanted to buy firearms.
Asked why he had the picture of Klebold and Harris, he said: "Because it was to do with Columbine and part of history."
It is alleged the teenager planned to use petrol bombs, air rifles, pistols and armour found at his home against staff and pupils at the school in Loughborough.
It is claimed he also named his college, a local mosque, a cinema, and Loughborough University as potential targets, and is alleged to have written a "hit list" of people he intended to target.
Photographs of the teenager making a military-style salute outside a mosque in Loughborough and outside a leisure centre, on which he had spray-painted the words "No more mosques", were shown to the jury.
'Pulled a pistol'
In the leisure centre picture, he was holding a machete.
He told the court he had been making the salute, with an arm raised up in the air, after seeing Norwegian mass killer Anders Breivik making a similar gesture.
Newspaper cuttings of reports about the murderer's trial were found in the teenager's bedroom after his arrest.
Mr Hill asked the youth why he had wanted to copy Breivik, to which he replied: "I thought it was a cool salute."
He also said he posed with a machete because he "thought it would be cool", the court heard.
The teenager also admitted to having shown a pistol to a group of strangers on a boat.
He said the incident happened at some point in early 2012 but he was not sure when.
The court heard he sent a text message to a friend reading: "So, pulled a pistol on people before."
In a message sent to a friend on Facebook about the event, he also wrote: "Looked scared. They were on a boat. LOL."
The defendant has already admitted possessing component parts for improvised explosive devices (IEDs), petrol bombs and pipe bombs.
But he denies a charge of possessing the items for the purpose, preparation and instigation of an act of terrorism.
The trial continues.