Earl Shilton residents challenge decision for traveller caravan site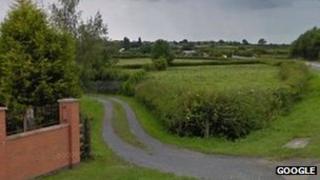 Residents are calling for a judicial review over plans to create a caravan site for travellers on flood-risk land in a Leicestershire village.
The group from Earl Shilton are against Hinckley and Bosworth Borough Council's decision to grant permission for the 10-pitch site on a farm.
They have now applied to the High Court in Birmingham for a judicial review into the council's planning consent.
The local authority said all relevant issues had been considered.
Members of the Earl Shilton Action Group said they believed the council had decided on the application in an "unsatisfactory way" and that they had "sound legal grounds" to challenge it.
'Inappropriate and unsatisfactory'
The group has raised questions about the flood risk assessment on Dalebrook Farm which they say falls within a flood zone, as well as access to the site and the impact on local schools.
Chairman Alan Greenwood, said: "We were given only one week's notice for the planning application so we were left with no time at all.
"It is inappropriate to put caravans on a flood plain and the access is really horrendous with it being on a blind bend and no footpath.
"As a community we are obligated to ensure that any development that goes on is suitable for the location. Anyone who comes on here won't know that it floods, until it floods."
County councillor for Earl Shilton, Janice Richards, added: "You wouldn't get planning permission to put houses down here and caravans are more vulnerable so why put caravans on a site that floods?"
Plans for the caravan site were passed by Hinckley and Bosworth Borough Council's planning committee in June.
Romany gypsy Aaron Smith, who wrote a letter supporting the application, said the site would help meet the shortfall in pitches in Hinckley and Bosworth.
A council spokesman said they could not go into detail on the decision subject to ongoing legal proceedings, but added: "During the meeting, members listened to public speakers and ward members.
"Members did have the option to either defer the application if they considered there was insufficient information to make a decision or refuse the application if they considered the development was unacceptable on planning grounds.
"However, having considered all relevant issues and representations, resolved to approve the application."