Leicester marks Richard Attenborough's 90th birthday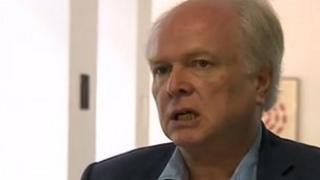 Tributes have been paid to the actor and director Richard Attenborough in a celebration to mark his 90th birthday.
Lord Attenborough, who grew up in Leicester, helped found the Richard Attenborough Centre, originally built to give access to the arts for people with disabilities.
Although unable to attend because of poor health, son Michael was there to celebrate his connection to the city.
Two venues hosted talks and screenings of a selection of his films.
Lord Attenborough grew up in Leicester with his brother, David, the naturalist, as their father taught at the university.
Artistic vision
He made his stage debut as a boy at the city's Little Theatre.
In 1997 he attended the opening of the Richard Attenborough Centre, at the University of Leicester, with Diana, Princess of Wales, shortly before her death.
Michael Attenborough said his father was giving his full support to Leicester's bid to become UK City of Culture.
"He has written a quite lengthy piece about how much he hopes it will happen and why he believed Leicester has very, very particular, unique really, elements to offer.
"He would be absolutely overjoyed if it happened," he said.
"He is a passionate believer in making the arts accessible to everyone, not just an educated elite: they are part of the quality of life for everyone."