Santander branch manager Celia Zarebska jailed for fraud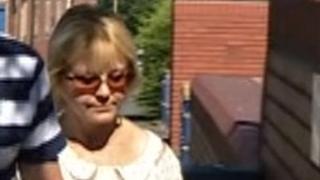 A former Santander branch manager from Leicestershire has been jailed for three years after stealing thousands of pounds from customers.
Celia Zarebska stole up to £315,000 over an eight-year period.
The 52-year-old, of Breadcroft Lane in Barrow-upon-Soar, pleaded guilty to two charges of theft, three of fraud and four of false accounting.
Judge Simon Hammond described her as a "dishonest person" who carried out a "sophisticated and devious" fraud.
'Campaign of dishonesty'
The prosecution told Leicester Crown Court how Zarebska created fake bond certificates and transferred money between accounts.
She took the money between 2004 and 2012 when she was eventually caught.
In a police interview Zarebska admitted taking the money and said she spent it on paying off her husband's mortgage and buying holidays and expensive dresses.
She said she withdrew at least £500 several times a month in cash.
At least one of Zarebska's five victims had been living in a care home at the time, one was 99-years-old and another died before she took their money.
Steve Chappell, chief crown prosecutor for CPS East Midlands, said: "Celia Zarebska conducted an eight-year campaign of dishonesty. She targeted elderly and vulnerable people and didn't think she would get found out.
"She committed a serious abuse of her position. She was trusted by her employers and community to look after their financial interests, but instead she chose to act for her own illegal gain."
The building society's branch in Barrow-upon-Soar has since closed and all of her victims have been refunded their money.
Sentencing Zarebska, Judge Hammond said it was "hardly surprising" she was now reviled by the community and her friends.
A spokesperson for Santander said: "We take fraud very seriously and worked closely with the police in their investigation. Cases like this are extremely rare and the customers impacted have been informed and reimbursed."