Leicestershire Police to use body cameras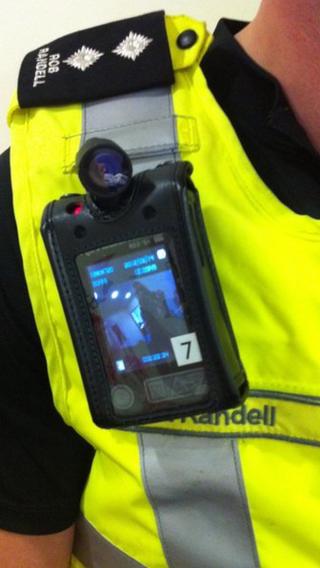 Police officers across Leicestershire are to be given body cameras to help them record evidence for potential court cases.
The small cameras attach to officers' uniforms and have a wide-angle lens.
The force said the cameras would help to identify potential criminals and in the gathering of evidence.
The scheme follows a trial in Leicester which, the force says, was successful. All officers are now receiving training in the use of the cameras.
'Invaluable in court'
Ch Insp Duncan Cullen, an operations lead in the county area, said: "Once all officers have been trained, the cameras will be available to every operational officer across the county."
The cameras will enable officers to view and record incidents as they happen.
Sgt Rob Randell, from the City Safer Neighbourhood Team, said: "Body cameras provide us with extremely important evidence.
"They enable us to get an even better and clearer image of the incidents and scenes we attend.
"CCTV can prove to be invaluable in court. We gather as much evidence as possible from a scene but cameras provide a case with evidence that you cannot get anywhere else, giving a clear picture of an incident unfolding."