Leicester Tigers fan paddles in tin bath to Twickenham Final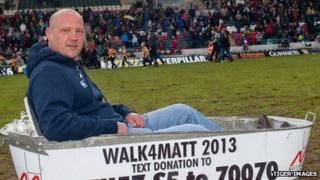 A Leicester Tigers fan has paddled 110 miles (177km) in a tin bath to watch the team play in the Premiership final at Twickenham.
Rob Knapp, from Syston, spent a week travelling from Rugby to London in the modified Victorian bath.
He joined dozens of other Tigers fans to raise money for the Matt Hampson Foundation.
Former Tigers prop Mr Hampson was paralysed from the neck down during an England training session.
Following his injury, he set up a foundation which helps others who have suffered serious injury or disability.
'Something different'
The trip to Twickenham, named Walk4Matt, is an annual event in which famous rugby names join fans and fundraisers to walk the towpaths of the Grand Union Canal between Rugby and London.
Mr Knapp, a former rugby player turned landscape gardener, has taken part in the event before, both as a walker and a canoeist.
"You've got to try to do something different to hopefully raise some money," he said.
"The sensible people are walking along the towpath but I will be in the canal in a bath.
"I've walked it before, I've canoed it before. I just wanted to do something else."
Mr Knapp set off on his journey on 18 May, travelling at a speed of less than one mph.
He said: "It's about as hydrodynamic as a three-bed semi!"
Tigers are playing Northampton Saints in a match that will decide the Premiership title.