Leicester turban row school closed by strike action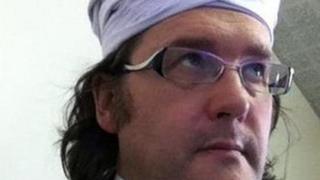 A strike has closed a school at the centre of a racism row over pictures of the head teacher wearing a turban.
Teachers at Leicester's Uplands Junior School have taken action over planned restructuring which could see several teaching assistants lose their jobs.
Earlier this month head teacher Tim Luckcock denied being a racist after the pictures of him were posted online.
Mr Luckcock blamed some of the reaction on the staffing review, which has also lead to calls for his resignation.
He posted the pictures on his Facebook account, along with comments he had "nearly gone native".
Independent investigation
However he defended himself and said he felt "misrepresented in the context of a very controversial staffing review".
The National Union of Teachers (NUT) said it had been disputing the review for 12 months and the entire teaching staff had passed a vote of no confidence in Mr Luckcock in March.
The school's governing body said it had proposed an independent investigation into both the review and staff complaints.
In a statement, the school said: "The governing body is understandably frustrated that while it is doing everything possible to reach a solution the unions are not prepared to wait for the outcome of the investigation before deciding to strike.
"We would question what it is that the unions would have us do differently so as to avoid having to close the school?"
But Ian Leaver from the NUT said: "To be honest, I don't see how the investigation can take place openly and be in a place where people feel they can talk with the head still in place.
"I believe he should be suspended pending the outcome of that investigation."
Uplands Infant School is open as normal.