Leicester Market £7m plan timetable confirmed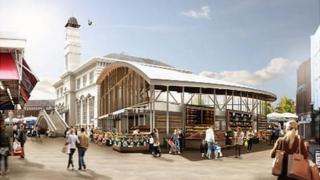 Conservation work on a listed building is the last major hurdle to a £7m revamp of Leicester's indoor market.
The current 1970s building will be removed from one side of the Corn Exchange, and a new glass and timber structure built on the other.
The council last week approved plans to begin construction in June, in time for traders to move sites in early 2014.
But officials said a scheme to protect the Corn Exchange during work would not be put forward until September.
The project also includes converting the site of the demolished market into a public open space.
A consultation on these plans is expected during the summer.
Plans for a £9m revamp were scrapped in 2010, and a controversial £600,000 scheme to renovate the indoor market was carried out in 2011.
Some traders in the current building have opposed the scheme, saying they feared rents would rise due to the amount of money being invested.
The Corn Exchange is a grade II listed building, the main part of which dates from the 1850s.