Richard III head reconstruction on show in Leicester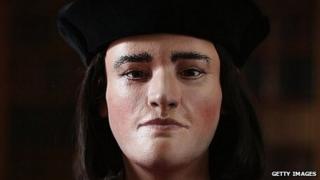 A facial reconstruction based on the skull of King Richard III is going on display in Leicester's Guildhall as the first stop of a nationwide tour.
Richard was killed at the Battle of Bosworth in 1485 but his grave was only rediscovered last August.
The display will visit Bosworth Battlefield in June before moving to Yorkshire, Northamptonshire and the British Museum in London.
It will return to Leicester in the spring of 2014.
The reconstruction will eventually go on permanent display at the city's new Richard III visitor centre next to the grave site.
The reconstruction of King Richard's head was commissioned by the Richard III Society.
The model relies on details from a CT scan taken of the king's skull at Leicester Royal Infirmary following the discovery of his remains underneath a car park in August by a team of University of Leicester archaeologists.
The reconstruction was the work of the forensic art team at the University of Dundee, who used CT scans and photographs of the skull, combined with a specialist computer programme, to reconstruct Richard's face.
The digital image was then turned into a physical model, complete with hair and eyes.
Leicester Mayor Sir Peter Soulsby said: "The temporary exhibition at the Guildhall has already proved enormously popular and the addition of the head will no doubt attract many more visitors."
Finishing details, such as the style and colour of Richard's hair and hat, were taken from near contemporary portraits of the king.