Anna Letitia Barbauld birthplace plaque unveiled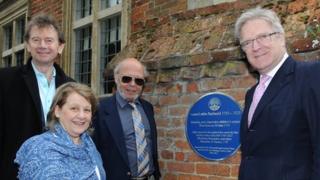 The birthplace of poet, political writer and children's author Anna Letitia Barbauld has been marked with a blue plaque.
She was born and grew up at the Old House in Kibworth Harcourt, Leicestershire.
William Wordsworth called her the best female poet of her generation and Coleridge once walked 40 miles just to meet her.
Academic Naomi Lightman said female writers like her had been ignored.
She said: "I'm so happy that a woman writer like this has become known to more people because so many of these women writers of the 18th Century were very obscure for years.
"Since the rise of feminism in the 1980s they've suddenly been rediscovered and people have realised how much they have to offer the reader, even today."
Barbauld was born in the house, at the junction of Main Street and Albert Street, in 1743.
The plaque also marks the birth in 1747 of her brother John Aikin, who became a physician, biographer, and editor.
Both attended the Kibworth Dissenting Academy, which was run by their father, also called John Aikin.
Anonymous pamphlets
Barbauld was one of the first authors to enlarge the text size in her books to make them easier for children to read.
Dr Lightman, who gave a reading at the unveiling on Saturday, said: "Her children's books were written in the 1790s mainly and they were very radical in their day.
"For example in the middle of the Napoleonic wars they questioned the whole idea of war and the slaughter that war brought and the economic problems, and presented this to children in a way that even today I think we would find quite challenging."
Barbauld also wrote pamphlets anonymously criticising the reaction against the French Revolution, which she was in favour of.
Dr Lightman said she needed to do this anonymously because she was a woman.
"She also did a lot of editing of 18th Century writers," added Dr Lightman.
"Really [she was] one of the earliest scholars to publicise their works in this kind of way."