Leicester police probe Abbey Park 'machete' fight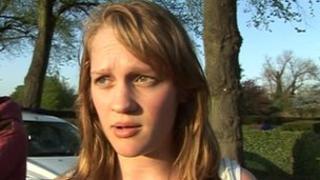 Police are looking into reports of a fight involving up to 30 men, carrying knives, a machete and an axe, in a Leicester park.
Officers were called to Abbey Park at about 18:00 BST on Monday.
One eyewitness, who was in the cafe at the time of the fight, said she saw the men carrying weapons as they ran through the park.
Leicestershire Police said no injuries had been reported and no arrests had yet been made.
Kathryn Robinson said she had just got to the park when she saw the group, who she thought were aged between 16 and 21.
"There was a guy running through carrying an axe, another one with a machete and a few knives, just running through.
"As soon as they left the cafe they ran back round, back into the park and then everyone just dispersed in different directions."
Police said they were still talking to people to establish what had happened.