Donington Park crash: Driver dies in historic touring car race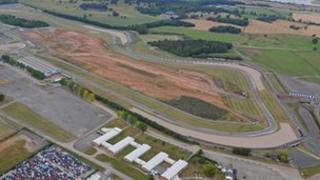 A racing driver was killed as he took part in a vintage touring car race in Leicestershire.
The accident, involving a 1965 Mini Cooper S, happened at Donington Park at about 16:30 BST on Sunday.
The victim was named by race officials as Christian Devereux, of Chiswick, west London.
The Historic Sports Car Club and the Motor Sports Association said they were working with the circuit owners to determine the cause of the accident.
'Terrible news'
Hundreds of people attended the weekend historic touring car races at Donington Park, which also hosts Superbike racing and has previously staged MotoGP and Formula 1 races.
In a tribute to Mr Devereux on Twitter, Jason Plato, two-time British Touring Car Champion, described it as "terrible news".
"Kinda puts things into perspective. Condolences to his family and friends," he wrote.
Another racing car driver, 2012 British GT4 champion Jody Fannin, also posted a tribute on Twitter, saying: "RIP Christian Devereux. Just heard about the news from Donington.
"Puts everything into perspective. Thoughts with his friends and family."
Loughborough resident Paul Blackwell, who was at the race, said: "We saw an air ambulance arrive and the mood in the crowd changed… we knew it was really serious.
"We were really sad for his family and friends but he was obviously a guy who was doing what he loved to do."