Leicester hedgehog survey begins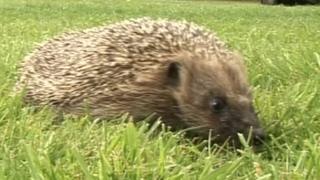 People in Leicester are being asked to help conserve the city's population of wild hedgehogs.
The city council and Leicester Hedgehog Rescue want residents to look out for the animals in gardens and parks and report any sightings.
The survey aims to get an accurate account of hedgehog numbers in the city, why they populate certain areas and how to stop their decline.
It will run from May until the end of November.
Richard Kelly, the city council's assistant nature conservation officer, said: "This is a great opportunity to get a better understanding of the hedgehog distribution and population across the city, and learn more about what we can do to help stop their decline."
People will also be encouraged to build nesting areas for hedgehogs in September as part of the initiative.
Coleen Powell, from Leicester Hedgehog Rescue, said: "There are so many problems out there for them. Steep-sided ponds, rubbish and nets of all kinds.
"There are probably areas of Leicester with lots of hedgehogs and areas without any. We really need to find out why."