Shaun Cummins murder accused claims he 'panicked'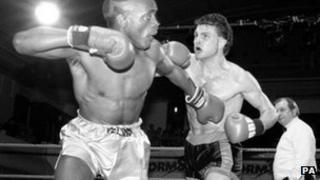 A man accused of murdering a former boxer and dismembering his body has told a court he "panicked" at the time.
Thomas Dunkley, 29, denies the murder of ex-WBA light-middleweight champion Shaun Cummins but admits preventing the burial of a body.
Mr Cummins' body was found in 10 pieces inside three freezers at his home in Marriott Road, Leicester in September.
Leicester Crown Court heard Dunkley say he did not get help when Mr Cummins died because he feared being accused.
Mr Cummin, 45, retired from boxing in 1995. He was paralysed by a motorbike accident in 2004 and had been suffering from pneumonia and infections of his bladder and kidney when he died.
Giving evidence, Dunkley said he and Mr Cummins had become "best friends" and would spend most evenings together.
Dunkley, who gave up his job in 2011 and had debts of up to £16,000, said he had been offered money by the former boxer for caring for him but was never paid.
Internet research
William Harbage, for the prosecution, quizzed Dunkley about internet searches recovered from his computer.
They included enquiries about how long it took a person to die from a stomach stab wound, about injecting bleach into veins and how long it takes a body to go cold, smell or decompose.
"Did you even at that stage have the thought, Mr Dunkley, that if the body was decomposing it might cover up what you had done?" asked Mr Harbage.
"No, because I hadn't done anything," replied Dunkley.
The defendant claimed he had been suffering with depression and been suicidal and the searches were research for him.
'I panicked'
When asked by David Mason QC, defending, why he had not called an ambulance when he realised Mr Cummins had died Dunkley said: "I panicked. I thought I was going to be blamed because I was there."
The defendant said he could not remember his thought process when he decided to buy a chainsaw to chop up the body, an extra freezer, gloves and overalls.
Earlier this week the court heard from pathologist Professor Peter Vanezis who said Mr Cummins died four days before his body had been dismembered.
Dunkley claims Mr Cummins died of natural causes and has also admitted four charges of fraud relating to using Mr Cummins' credit cards and cashing cheques from a trust fund days after he died.
The trial continues.